In today's technology-driven expanse, enterprises recognize the decisive importance of a CRM tool. It is essential for every enterprise to evolve with the swiftly changing market dynamics & drive quality customer engagements. A robust CRM provider understands the market & customer needs and enables its users to acquire & retain more customers by delivering seamless customer experience. 
As the world's #1 CRM provider, Salesforce has put a significant amount of effort in building a revolutionary user interface. Lightning Experience has seen a huge amount of additional developments and enhancements in the past few years. Considered as the home for all the future innovations, the Lightning transition from Classic has taken its time. However, the process is now almost done. 
Lightning is faster, powerful, intuitive and feature-rich. It is a component-based framework for app development which means accelerated development with minimal coding. The power of Lightning enables users an ability to create a user experience that improves workflow and productivity. What makes Lightning special? Let's explore the top 10 Salesforce Lightning features.
An Advanced User Interface
The new Lightning user interface is highly flexible and robust as compared to Classic. The UI offers easy development between mobile devices and desktop. It enables high user productivity and drives efficiency with less code. An intelligent home page allows the user to monitor performance to goal, and get news on key accounts.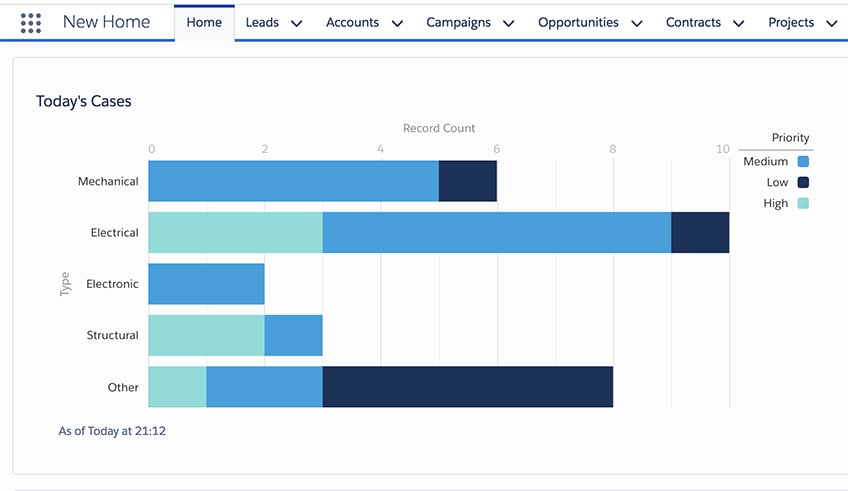 Kanban View
With the Kanban view, sales reps can efficiently manage opportunities. Appeared as a visual summary of the records in a list view, it shows a big picture view of all the on-going tasks and also allows effortlessly sort, summarize, filter, and move opportunities. Users can swiftly create tasks and events directly related to the opportunity without leaving the view. Kanban view can be used as a workspace.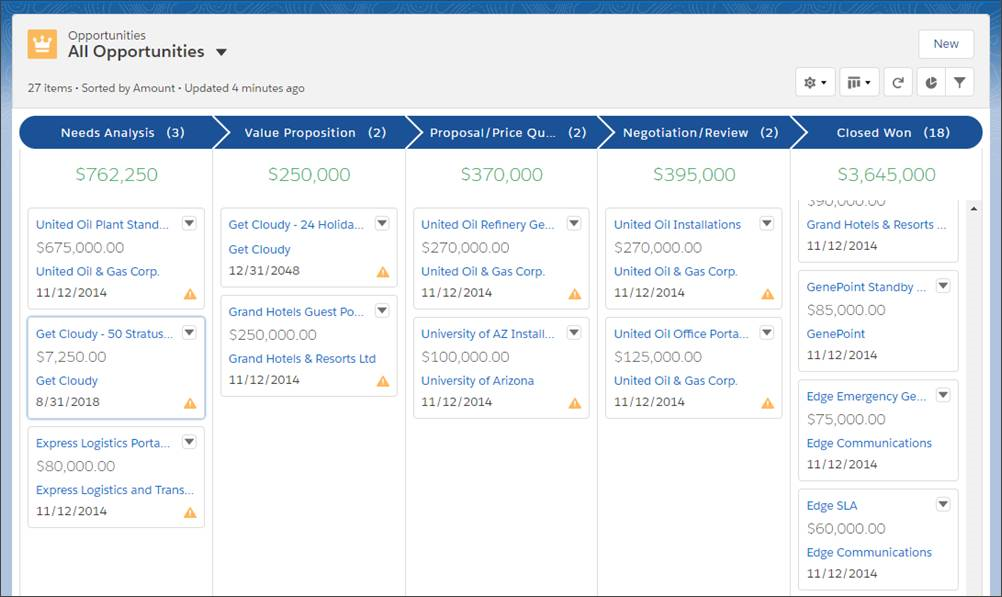 Reports & Dashboards
Salesforce has redesigned reports and dashboards for Lightning Experience, making them more interactive, easier to navigate, and edit. Sales reps can get more information from interactive charts without drilling into the reports. With the Lightning dashboard editor, Dashboards can be created with more than three columns and column-spanning components. Report quality can be enhanced without launching the report builder. With the new UI, finding reports & dashboards have become easier via redesigned home pages.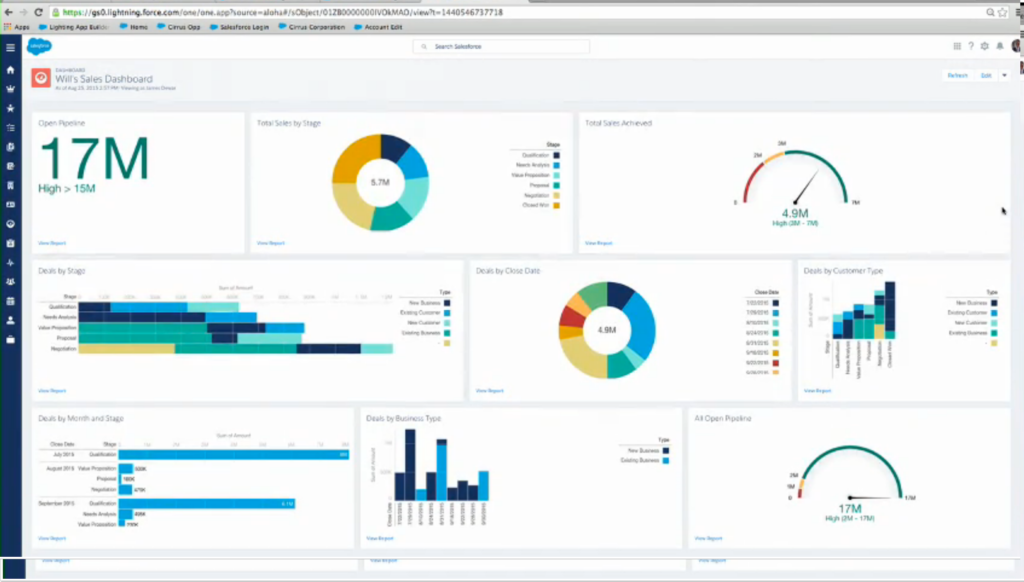 Lightning Path
The new Lightning Path in Salesforce Lightning guides sales reps through the steps of a process such as working on an opportunity from a fresh lead to closing a deal. At every step, Lightning Path helps the team succeed with specific guidance & resources.

Activity Timeline
In Classic, we have Open Activities & Activity History. Open Activities allows users to create task & event records with the record type selection functionality, whereas Activity History allows users to log a call or send an email. In Lightning, Salesforce has added a standard lightning component that shows the action to create the task and other action along with an activity timeline which shows the record you have already created. With the activity timeline feature; see open tasks, planned meetings, and accomplishments in the activity timeline on activity-enabled objects.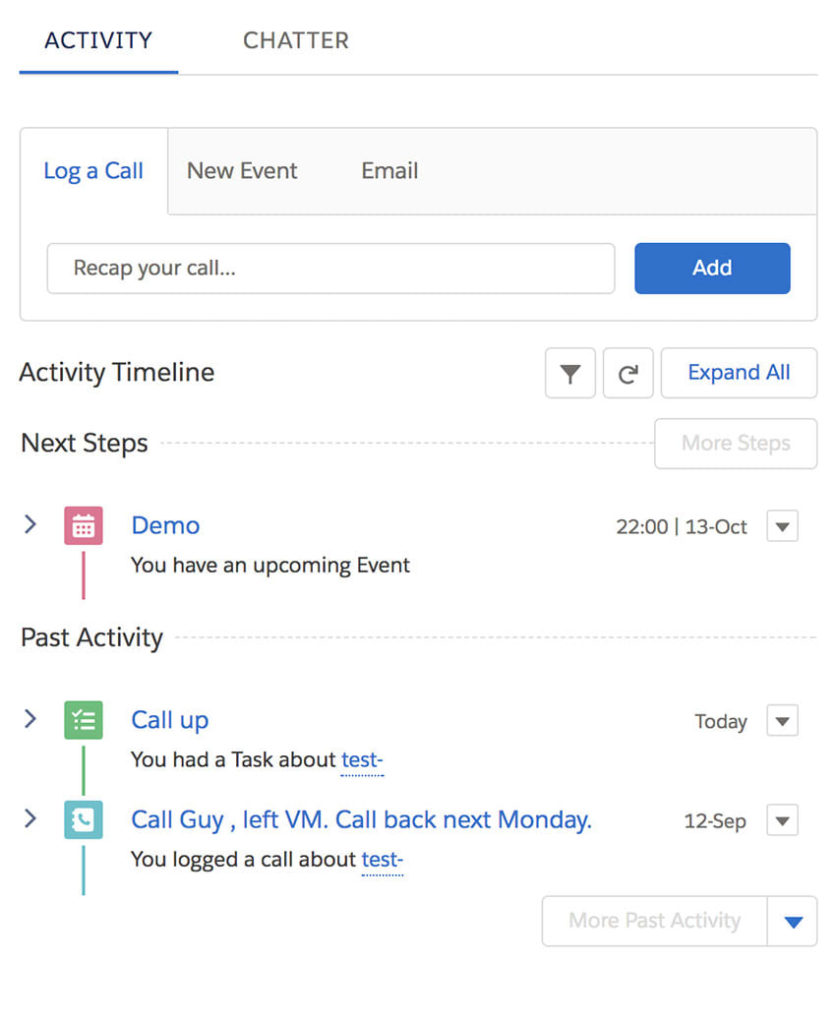 Salesforce Einstein
Salesforce Einstein is not new to anyone. This is one of the top Lightning features. Salesforce Einstein, an Artificial Intelligence tool enables businesses to become more predictive about future trends and customer buying patterns. The productivity of sales, service, marketing teams can be boosted significantly with Einstein. 
Also read: Decoding Einstein Analytics & how it is integrating data to accelerate business success
Lightning Web Components (LWC)
Salesforce has introduced the new Lightning Web Components (LWC) which is a new programming model for building Lightning components. This will make life easy for JavaScript developers to code on the Lightning Platform as Lightning Web Components are custom HTML elements built using HTML and modern JavaScript. By using this with other low-code tools, organizations can develop & deliver high-performing web experiences. This new programming model can seamlessly work and interoperate with the original Aura programming model in order to offer the highest performance. In a nutshell, the new Lightning Web Components can take the Salesforce development and modern JavaScript development to a whole new level.
Also Read: Salesforce Lightning Web Components: The new way to build Lightning Apps
Live Feeds
This is one interesting feature in the Lightning Experience. When you're in a group in Lightning Experience, the Chatter feed is live. Live feeds offer posts and comments right as they're posted, without requiring a page refresh.

Lightning App Builder
The Lightning App Builder is a point-and-click tool that makes it easy to create custom pages for the Salesforce mobile app and Lightning Experience, giving your users what they need all in one place. Lightning app builder allows users to control & customize lightning components in order to build business-specific apps. 
Lightning Snap-Ins
Lightning snap-ins are one of the most important elements for Service Cloud users. Snap-ins facilitate enterprises to quickly coordinate client support directly into their applications and pages. With the Lightning snap-ins service agents can reach out to the clients right where they are, personalize service delivery, and connect the customer journey.
Wrapping up
The seamless, intuitive, and intelligent design of Lightning is helping enterprises navigate Salesforce and work in the CRM with greater efficiency ultimately improving productivity by closing more deals. The modern UI, smart views, integrated dashboards, drag-and-drop capabilities, customizations, lightning components, and the power of AI is making Lightning succeed. As a Salesforce partner, CEPTES has helped multiple enterprises leverage the Lightning platform to achieve higher business goals as well as close more deals faster with Lightning features. Are you planning your Lightning migration? Let our certified experts help you in maximizing the benefits from the above features. Get in touch now.