We are proud to announce that, CEPTES has joined Pledge 1%, the global movement that is creating a new normal for companies of all sizes to integrate giving into the DNA of their business. Spearheaded by Atlassian, Rally, Salesforce, and Tides, Pledge 1% empowers companies to donate 1% of their Product, 1% of Profit, or 1% of Employee Time to causes of their choice. Over 5000 companies in 98 countries have joined the movement, committing to pledge 1% of equity, product, profit or employee time to make a difference in communities around the world. We are excited to join the Pledge 1% community by pledging 1% of our Profit, Product, and Employee Time.
We have earned the expertise not only in developing revolutionary enterprise products but also in offering Salesforce Lightning, and Einstein Analytics solutions leveraging the latest advancements in the platform. We have a history of corporate philanthropy and community giving which include discounted product licenses for nonprofit organizations, healthcare service providers, promoting educational institutions and support for women empowerment. We are encouraging every CEPTES employee to donate 1% of their time to any social cause they care about. This includes individual and team volunteering. We've also pledged to offer 1% of our profit to support global goals.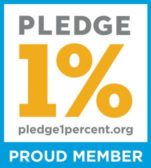 The movement started in 2014, when Atlassian and Salesforce teamed up to rally philanthropic thinking and action in early-stage companies. Over 500 companies have joined the effort in 2015 itself. Since CEPTES was started in 2010, we have been always focused on giving back to the community. We realized Pledge 1% is a great way to accelerate our commitment and an opportunity to join a community of leading technology companies actively working to make the world a better place.
Here's what CEPTES Co-Founders have to say about their participation in Pledge 1%:
"CEPTES is committed to leverage the power of our business, people, and technology to support non-profit organizations in order to give it back to the society. We are very proud to contribute a portion of our success to the community stakeholders to make the world a better place," said Priya Ranjan Panigrahy, Co-founder, CEPTES.
As per Harish Kumar Poolakade, Co-founder, CEPTES, "We are highly inspired by Salesforce's 1-1-1 model and decided to join the pledge 1% movement. I strongly believe entrepreneurs, companies, charities, and communities should join hands for a common purpose: to give and celebrate philanthropy. It's time for us to build a better tomorrow together."
We encourage our clients and other enterprises to join us in this pledge.
You can visit the Pledge 1% website to get more information.