Why Salesforce Essentials for small businesses?
Best way to start with the Salesforce leveraging the best-in-class features, intuitive Trailhead walkthroughs, and an easy & quick set-up. With Essentials, achieve higher sales & offer world-class customer service using the simplified versions of Sales & Service Cloud.
Fill out the form below, and we will reach out to you soon with more information.
Key Salesforce Essentials Features
Salesforce Essentials edition is tailored for small businesses in order to help them get started with Sales & Service Cloud & streamline their sales process to sell faster and at the same time offer next-gen customer service. This will save time and also offer an opportunity to learn, use, maintain, and scale-up their business using the CRM platform.
Sales Cloud Essentials Features
Targeted for a small sales team, Sales Cloud Essentials offers a lot of useful features at a low price.
Account, contact, lead & opportunity management
Email Integration with Gmail or Outlook
Salesforce mobile app
Customized sales process
Task management & activity feed
Einstein activity capture
Collaboration tools
Lightning app builder & AppExchange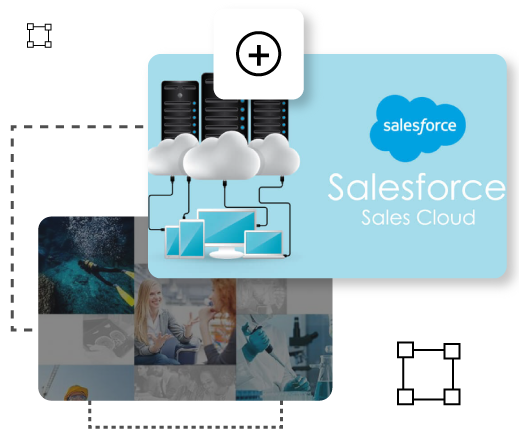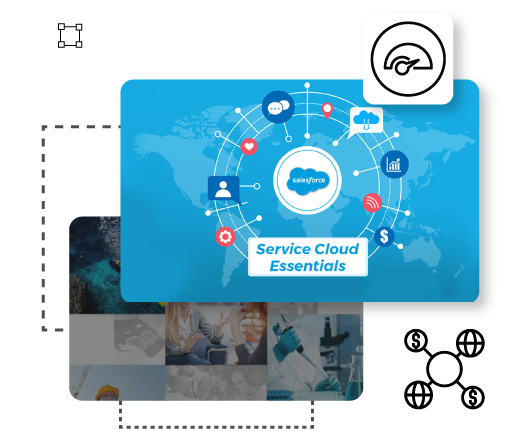 Service Cloud Essentials Features
Salesforce's Service Cloud Essentials is a great asset for basic service management.
Case management
Service Console apps
Telephony Integration (CTI)
Knowledgebase
Email optimization (web & email case capture & auto-response)
Collaboration tools
Task management & activity tracking
Custom profiles & page layout
Top Essentials Benefits
Small businesses can use Essentials with just $25/month and even without having a dedicated in-house team. Apart from automating and streamlining the sales & customer service processes, Salesforce Essentials offers an opportunity to small businesses to compete at the bigger market with the same set of tools that larger enterprises are using.
Sales Cloud Essentials Benefits
Sell faster with everything you need on one screen.
Spend less time in spreadsheets & more time selling.
Close deals faster — at the office or on the go.
Service Cloud Essentials Benefits
Automatically connect multiple support channels.
Focus on more important issues when you put busywork on autopilot.
Help customers help themselves with self-service.
CEPTES Capabilities
With our decade long Salesforce platform expertise and 80%+ certified consultants, CEPTES can help your small business thrive in the world's #1 CRM platform to achieve faster sales results and offer personalized customer service. As a Salesforce Silver Consulting Partner, we can also help you implement Sales & Service Cloud Essentials to get you started from the word go.