Solutions
CEPTES offers a full set of Salesforce Cloud solutions to connect your customers across sales, customer service, marketing, communities, apps, analytics, and more in a whole new way. In order to maximize your Salesforce investment and meet specific business goals, our Salesforce certified consultants offer Salesforce Cloud consulting, implementation, integration, migration, enhancement and support services.
Sales Cloud
Powered by world's #1 CRM solution provider Salesforce; Sales Cloud which is the world's leading sales automation tool helps sales teams including sales managers and sales reps work smarter by automating various sales processes, increasing efficiency, accelerating sales productivity, creating a pipeline of leads, closing deals faster, and making insightful decisions with data – from anywhere using any device.
Sales Cloud features allow both sales managers and reps grow accounts, find new customers, deliver real-time information and increase lead conversions.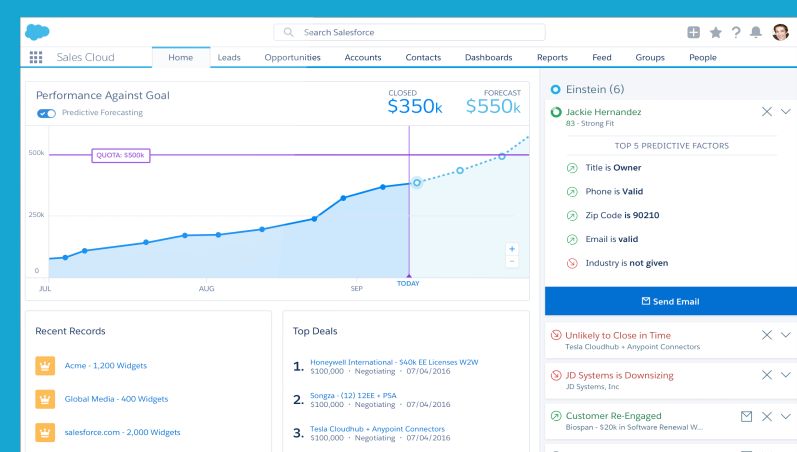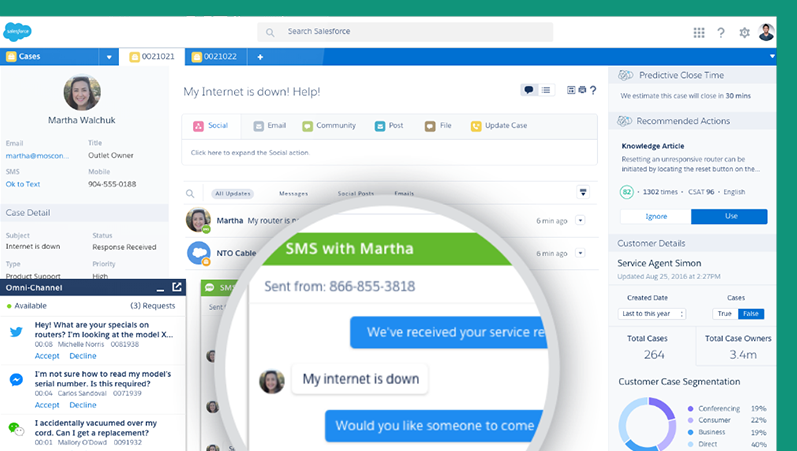 Service Cloud
Salesforce Service Cloud helps organizations efficient their customer service by improving customer service quality and drive better user experience while significantly cutting down costs. Leveraging Service Cloud, customer service teams can close cases faster with AI & automation, provide fast and intelligent self-service, personalize customer care and predict needs to keep the conversation flowing.
Service Cloud features allow customer service teams to support their customers or prospects in real-time using live chat tools while the customers are in the app or on the website. Below top Service Cloud features shows the rich functionalities and capabilities.
Marketing Cloud
Enable your marketers to deliver relevant and personalized customer journeys including exceptional experiences across email, mobile, social, advertising, the web, and more. Salesforce Marketing Cloud offers a robust set of marketing tools built on a unified platform to know customers better, engage them, and personalize their experiences.
Embedded features of the Marketing Cloud helps marketers deliver the right message at the right time on any channel through multichannel campaigns triggered and managed from one place and track the results.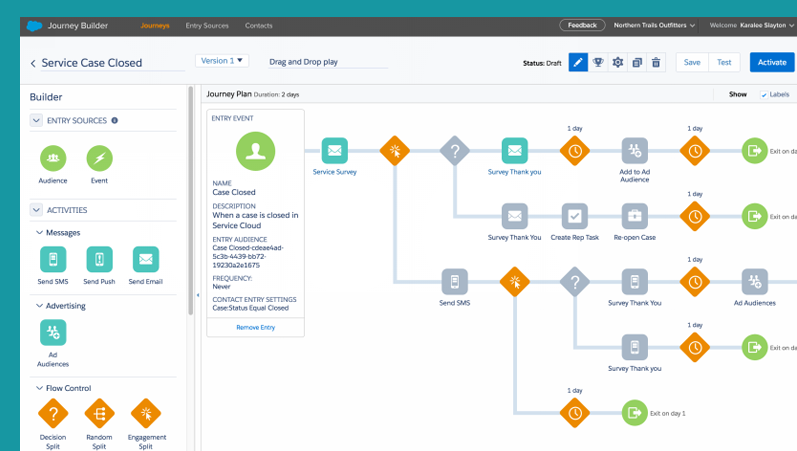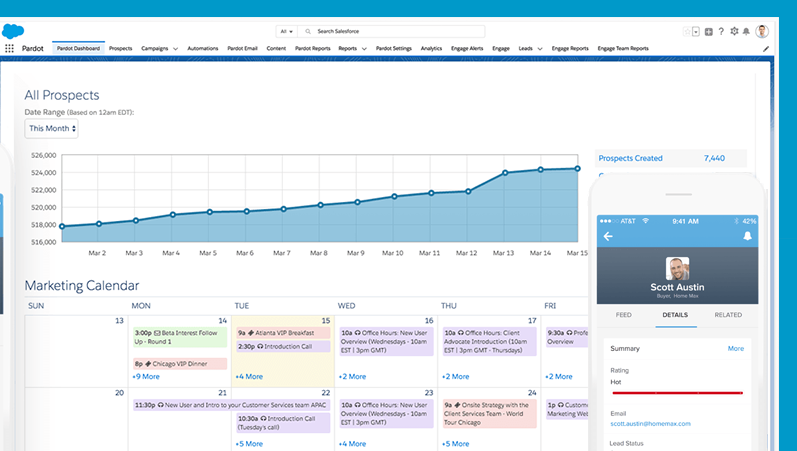 Pardot
Pardot is the next generation of B2B marketing automation tool by Salesforce. The solution offers marketing automation supporting the needs of B2B organizations of every size and any industry. B2B marketers embrace Pardot solutions for smarter engagement, generate high-quality leads, develop meaningful customer relationships, and measure marketing ROI with dynamic reports. We offer Salesforce Pardot implementation, integration, consulting, and support services.
App Cloud
Salesforce Platform has been used so far to develop 50K+ applications for businesses of every size and industry and currently has over 1 million installations.
If you are looking to develop highly intuitive and robust Lightning applications using Salesforce Platform (App Cloud), our Platform App Builder certified developers can help you in this. We develop, customize, maintain and enhance business applications in the Salesforce platform. We have successfully built finance solutions, healthcare solutions, manufacturing solutions, professional service solutions, ERP, HR solutions, retail solutions, supply chain solutions using Salesforce Platform.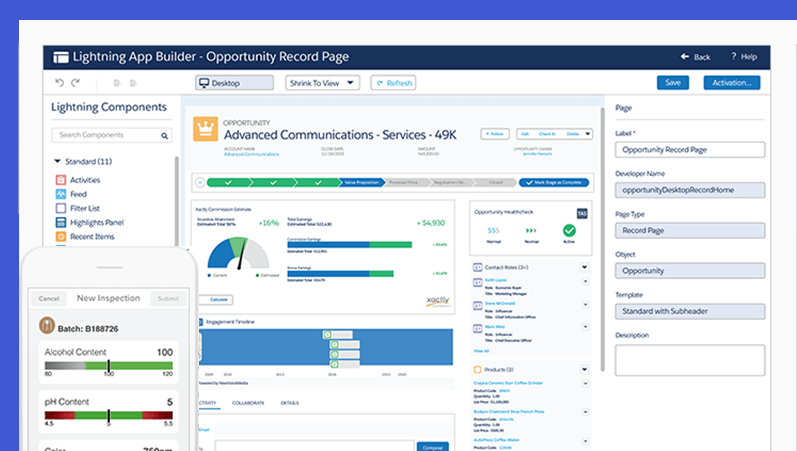 Integration Cloud
With our team of Salesforce certified consultants, CEPTES offers end-to-end Salesforce Integration Cloud services. Our Salesforce integration solutions enable organizations to deliver intelligent and connected customer experiences across various touch points including devices and data powered by the MuleSoft Anypoint Platform.
We understand the MuleSoft platform adequately and develop enterprise level integrations that aid the users to connect various data scattered through myriad platforms. By connecting your digital ecosystem and implementing tailor-made digital strategies, we can connect and integrate your application, data source, API, device, ERP, and third-party solutions, all based on your business requirements.
Salesforce Analytics
Uncover actionable insights in your business and customer data to accelerate your growth based on data-driven insights with Salesforce Einstein Analytics. Einstein Analytics is intended to leverage Artificial Intelligence in order to discover business insights, predict results, drive efficiency and move with the market change.
Einstein Analytics can be used in various business verticals ranging from Sales to Service, Marketing to HR, Supply Chain to Retail. We offer end-to-end Salesforce Analytics services to accelerate sales, enhance customer service, optimize business processes and maximize ROI from marketing campaigns.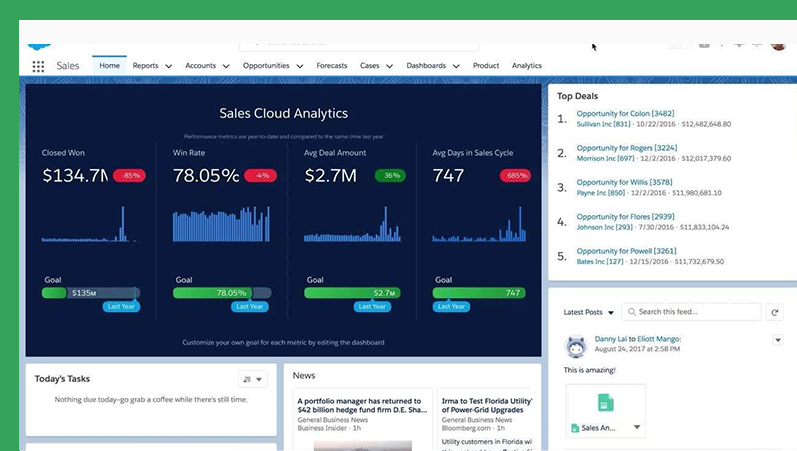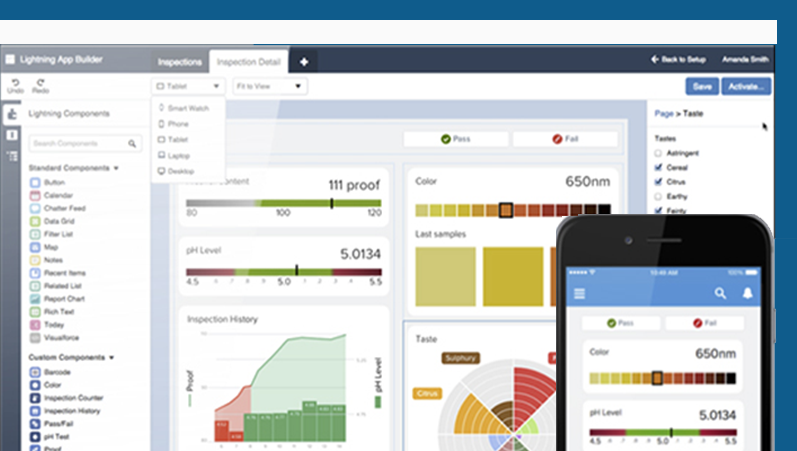 Lightning Migration
Salesforce.com's Lightning help companies provide smarter solutions. The new UI extends Salesforce ambient user experience from mobile devices to desktop and Visualforce pages. The new UI helps increase productivity by performing more tasks in less time. When you have the right partner, your transition to Lightning will become smooth and productive.
Whether you are using Lightning for a fresh Salesforce implementation or scaling up from Classic, CEPTES can manage the entire process in order to streamline the transition process without affecting your routine business processes and bottomline.