In the Digital era, as most things are either digital or moving towards digital, service is as quick as sending an email. So, the digital signature in any of the documents. Moreover, it also saves a natural resource called a tree, let's understand how?
So, what a Digital signature is?
Since everything has shifted to a digital platform, no one wants to deal with the hassle to print the document, sign it, scan it back, and upload it. Whether you are part of a sales team or operations team or hold a leadership position, you should be facing the problems mentioned above. The advent of document management and Digital signatures eased and provided much time to other users like you to deal with other essential activities.
Are Digital Signatures Worth?
Electronic signatures are replacing written signatures. Not only do they save time and money, but they also create less waste and are traceable, time-stamped, more secure, and legally equal to written signatures.
A company and its customers have a global presence.
These customers create thousands of documents, cases, requests, and opportunities that mandate customer contracts and e-signatures each day.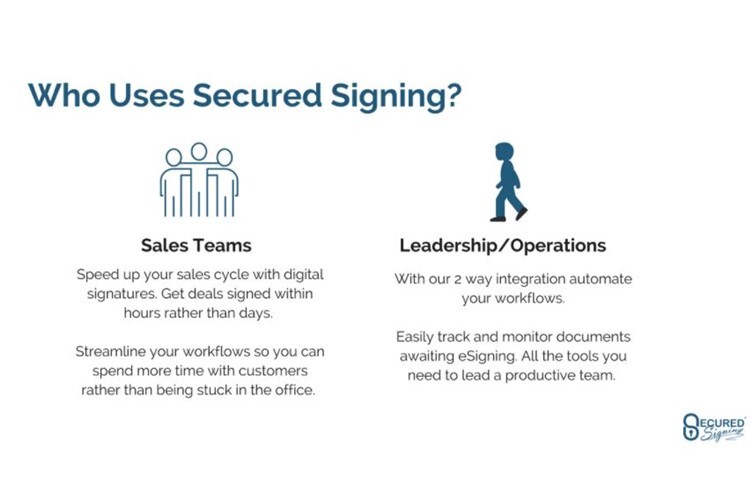 How does a digital signature work?
All digital signatures are electronic signatures, but all electronic signatures are not digital signatures. Digital signatures are coded and encrypted signatures and feature a unique combination for both signing parties. Without an efficient signing solution that helps you capture legal-binding electronic signatures, you could expose your organization to legal troubles down the road.
Use cases of Document Management and Digital Signatures
Digital signatures have proliferated, compared to the growth of Salesforce, i.e., from $650 million in a transaction in 2016 with an expectation of $3.5 billion by 2022. E-Signatures are a natural fit for e-Commerce, FinServ, banking, insurance, and other industries.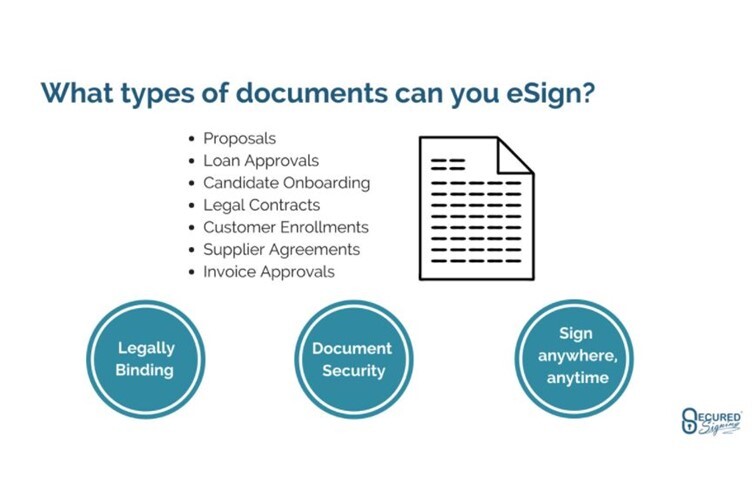 Usual documents encountered in Salesforce are:
Business and sales contracts
Service requests and orders
Legal Documents
Non-disclosure agreements
HR documents
Many more
The use of e-signatures for the cases, as mentioned above, saves time, storage, and money and improves compliance and completion rates.
Typical use cases are:
Sales Contracts
With a native Salesforce e-Sign option, sales reps can process all relevant documentation and contracts efficiently that are related to each sale within moments. Sales contracts are naturally the most valuable document for a business and the most frequently signed item from large enterprises through to small businesses.
Salesforce e-signature integrations such as this next-generation solution from Lightico ensure that all sales-related activities are covered in one interaction i.e., full sales-cycle events like completing forms, visualizing products, gathering documents, processing payments, and verifying identification.
Customer Onboarding and Forms 
Their formal customer relationships start when a contract, agreement, or other document is signed for many businesses. The deal is crucial to create the image of the companies. Delay in signing the paper, due to legacy onboarding processes that rely on paperwork or email, can lead to losing the deal.
Customer expectation of instantaneous activities with in-the-moment activities is high. Such onboarding processes not only secures the deal but also eliminates re-keying of data that has potential errors.
Service Requests
Today, customers make purchases, make changes, or have questions; they are eager to remove any bureaucratic intervention that can slow down the completion of their transaction. So, it is obvious they would expect digital transactions, not slow, error-prone paper processes.
The addition of Salesforce e-Signature capabilities to change documentation helps a business avoid delays and costly cycle times. Ensuring that customer requests are exact and have 'sign off' ensure there are no disputes.
Non-disclosure agreements
It is a standard procedure to use non-disclosure agreements in many businesses to protect themselves when engaging outside resources. Digital signatures empower a fully compliant audit trail to ensure each NDA is completed in a timely and auditable manner making it legally more secure.
Specific Industry transitions
Specific industries are more inclined to use e-sign due to the business's nature and the necessary documents. These businesses are typically juggling the heavy compliance and regulatory burden and the competitive pressures of offering a seamless customer experience –which is very well answered with Salesforce eSignatures.
How to digitally sign any document?
In the category of Contract Management, you can find a lot of apps focusing on document management and electronic digital signatures for Salesforce. Certain apps such as Digital Signing Software offer full Salesforce integration, create documents, insert Salesforce fields dynamically, send for signing, track, and securely store signed documents and audit trails in Salesforce.
DocuSign is another popular option for businesses just getting started with digital signatures. At $10 per month, it's a low-risk way to send a few documents per month while getting a feel for how e-signing works.
Other popular Alternatives for DocuSign are:
PandaDoc
HelloSign
SignNow
Adobe Sign
RightSignature
SignRequest
SignEasy
Let's Conclude:
We have seen the different uses & benefits of a digital signature, which is very quick & efficient. If you want to integrate your app with Salesforce and grow your business, we can help you.
CEPTES is a Salesforce Silver Consulting partner offering services that speed up the business value of your Salesforce.com investment through consultation, digitalization, and innovation. To know more, follow along with this series.
Develop an app or choose the best app amongst the existing list related to Document Management and Digital Signature. Please get in touch.