Salesforce CPQ Overview 
Salesforce CPQ stands for Configure, Price, Quote. It's an extension of your customer relationship management platform (CRM). Salesforce CPQ is a sales tool for companies to provide accurate pricing with any given product configuration scenario. CPQ gives your sales team easy-to-use software available on any device due to its cloud-based platform.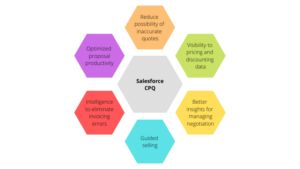 CPQ takes the most important parts of the sales cycle out of spreadsheets and puts them into automated sales tools that deliver error-free quotes. CPQ helps sales representatives to sell the right product combinations, control discounts, and automate approvals.
Why is CPQ Important?
When it comes to the sales cycle's final stages, many company's sales teams are stuck relying on spreadsheets and emails. Instead of moving on to their next deal, they might waste hours chasing down contract approvals or accurately pricing products.
Salesforce CPQ changes this by giving sales reps and leaders full access to data they need to speed up even the most complex quote.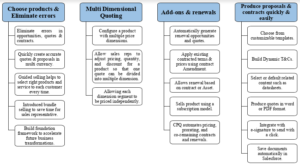 Benefits of Salesforce CPQ
Salesforce CPQ can be useful to your sales teams and overall organization in several ways:
Salesforce CPQ provides complete control and visibility to sales leaders. Many sales teams work in a confused state. Maybe you have seen your sales teams accidentally send out unapproved pricing or promise products that no longer exist. Companies have large amounts of data that make it practically impossible for teams to accurately track, analyze, or forecast. Salesforce CPQ can solve this by organizing data and giving sales teams a clear picture of what they can offer the customer.
Salesforce CPQ provides individuals a way to create more accurate and better price quotes by using the templates already saved in the drafts. This can help you save time and money.
Product Configuration
We have multiple choices for buying products. Many buyers expect an array of products to choose from, but if the sales organization offers many options, it can come at a cost. Your sales reps must make sense of the variety of products, and there's a real possibility that they'll quote products that just don't work together. Thankfully, Salesforce CPQ makes selling complicated product offerings easy by giving sales reps pre-made product bundles to choose from and even tweak as needed. With bundles, your sales reps can create accurate quotes in record time.
Product Bundles
A bundle is simply a group of products we know should be sold together. When the sales rep chooses to sell the bundle, all the related products come along for the ride.
There are three types of bundles:
Static bundle

: These bundles always have the same products together, in the same quantities, with no changes allowed.

Configurable bundle

: This bundle can be customized to your liking, with some limits to prevent impossible configurations.

Nested bundle

: This is a bundle inside another bundle.
Configuring a bundle product in Salesforce CPQ involves creating the below records:
Products:

 The bundle product as well as all the sub-products included in the bundle

Product options

: A product option record for EACH sub-product to associate it with the bundle product. One bundle can have many product options.

Product features

: Optional. Product options with similar characteristics can be grouped together using a product feature. One bundle can have many product features.

Option constraints

: Optional. Option constraints ensure that all users select only compatible options.

Configuration attribute

: Optional. Set the value of a specific field on multiple product options included in a bundle or feature.
Salesforce CPQ allows sales reps to customize bundles, wherein they can select from a set of multiple options present in a bundle based on a customer's need.
Please refer to the below home security bundle screenshot that has nine product options and four features. Whenever sales reps add home security console products to a quote, they're adding little structure to categorize products within the bundle. When you're done, the bundle looks like this:

Product Pricing
Salesforce CPQ provides several types of pricing discounts that sales reps can apply to their quote lines. The list price is the quote line's initial price. When you quote a product, Salesforce CPQ pulls the quote line's list price from the product's list price entry in your price book. If you select a product or quote line's "Price Editable" field, you can override the quote line editor's list price. The "Pricing Method" field in the product record is set to "List" by default, but you can change the pricing method to "Cost" or "Block" pricing.
Below are some tools that are available in CPQ org:
Block pricing

: Uses flat pricing for a range of quantities instead of multiplying by the number of units.

Percent of total (POT) pricing

: Looks at the sum of other product prices, then takes a percentage of that sum.

Option pricing overrides

: Replaces the price of the product only when it's within the bundle.

Cost-plus mark-up pricing: 

Allows sales reps to add value on top of a product's cost.

Contracted pricing: Sets account-specific prices for individual products or categories of products.
Once you are done with the pricing set up, it will look like the below screenshot in quote line editor:

CPQ Quote
Salesforce CPQ gives you a flexible way to create quotes in a quote line editor. We can add or remove products, apply discounts and mark-ups, and calculate prices for your quote using quote line editors.
Select "Edit Lines" on a quote record to open the quote line editor. The quote line editor lets you view all your quote lines and apply changes across the entire quote or individual lines.

If your quote line editor shows a field above your quote line list, you can edit that field and then save or calculate the quote to apply the field across all your quote lines.
Summary
This blog covered what Salesforce CPQ is, why it is helpful and important for companies, and how it is beneficial for sales teams and overall organizations. We have seen how to configure products and product bundles, the different types of bundles, and product constraints. We took a quick overview of product pricing and different types of pricing. We have also seen how to create and edit quotes using configure products, product bundles, applying to price, and discounts on quotes.