Salesforce field service lightning (FSL) which is one of the top functionalities of Salesforce Service Cloud is a highly customizable, powerful, mobile-friendly field service hub that helps field service agents increase productivity. 
Equipped with AI-powered scheduling, resource optimization, knowledge articles, etc. FSL helps service agents manage their work orders & schedules efficiently. This also enables them to fix customer issues quickly with smarter decisions – all on the powerful Customer 360 Platform. 
Below is the list of things that Salesforce field service lightning do:
Create impactful records representing field service technicians, agents, and add professional information like skills, location, and business availability.

Set up level-wise service territories that represent the regions where technicians can work.

Track the live location & status of inventory, warehouses & service vehicles.

Schedule work orders for customers, and add details about technician preference and required skills and parts.

Create maintenance plans and templates to standardize the field service tasks.

Share reports about service progress to the customers.
Why is the Salesforce field service lightning a great package?
In order to offer a highly connected customer experience, field service lightning boost workforce productivity, automate appointment schedules, get real-time visibility, optimize mobile workforce allocation & manage jobs in the field using smartphones.
Seamlessly connect with customers

Service delivery tracking gets automated with the Salesforce Dispatcher Console feature. Users have the power to customize their dashboard view to a map or a Gantt chart and can get real-time job alerts. 
Deliver guided mobile experiences
On the move, employees and field service agents can share job updates, access knowledge books, view and update van stock or hub inventory, and generate service reports using the Field Service Lightning mobile app. 
Workers can schedule appointments as per priority level and improve process performance by passing on a particular service request to the right agent. With Salesforce Platform, standard and custom objects integrate with work orders.
Offer intelligent customer experiences 
Any third-party systems integrate, and with the power of IoT, field service agents take quick actions to deliver intelligent customer experiences. Field Service Analytics will help to identify the trends and problems early to optimize the mobile workforce.
Core Features
When Salesforce Field Service Lightning is enabled, we gain access to a suite of familiar objects present in Setup and tabs in Salesforce. They make the core field service features, including appointments & orders.
Managed Package
The Field Service managed package built on the core features and includes:
A Setup tool that walks through creating field service records and customizing the settings

A dedicated scheduling console that gives dispatchers and supervisors a bird's-eye view of all the team members & scheduled appointments

A scheduling optimizer that allocates resources to appointments in the most efficient way by accounting for skill level, travel time, location, and other factors

Scheduling policies and triggers that help customize the scheduling model and display preferences.

Mobile App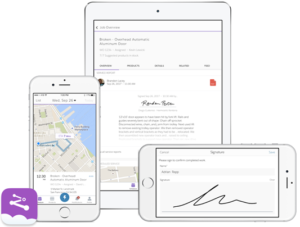 The iOS and Android versions of the Field Service Lightning mobile app make work a pleasure for field service technicians who serve the clock's customers.
App users can update daily work orders, track part supplies, gather customer signatures, and connect with dispatchers directly from their smartphone. 
Conclusion
There are many reasons why the Salesforce field lightning app is a delightful experience for users, company, field workforce & manage many things simultaneously. This feature allows the field service team to offer faster, smarter, and personalized services using smart mobile devices with Service Cloud. The field service team can access account info in order to resolve customer problems by creating a work order for a case. The service team can schedule field agent's appointments, manage their schedules, and track their material consumption all in real-time.
CEPTES is a Salesforce silver consulting company with over 80% Salesforce certified consultants. It is widely accepted as a leader in delivering Salesforce Cloud (Sales Cloud, Service Cloud, Marketing Cloud, App Cloud, etc.), Salesforce Analytics, and Lightning Migration services.
If you are looking for Certified Salesforce field service lightning experts, then contact us today!