Salesforce held a virtual Ideathon for its India Partners over five months, from June 1 to October 31. The challenge brought together 51 Salesforce India Partners touching 1000+ participants.  
CEPTES actively participated in this Ideathon and proposed the idea of SLACE- ALL IN ONE & ONE FOR ALL. 
And we're excited to share that the judges selected SLACE to be among the Top 9 solutions. We are experiencing a moment that is just overpowering. We would like to express our gratitude to the panel judges for their recognition of our idea.
Today, we received our winning award at Salesforce Mumbai Office from none other than Salesforce India Head, Mrs. Arundhati Bhattacharya.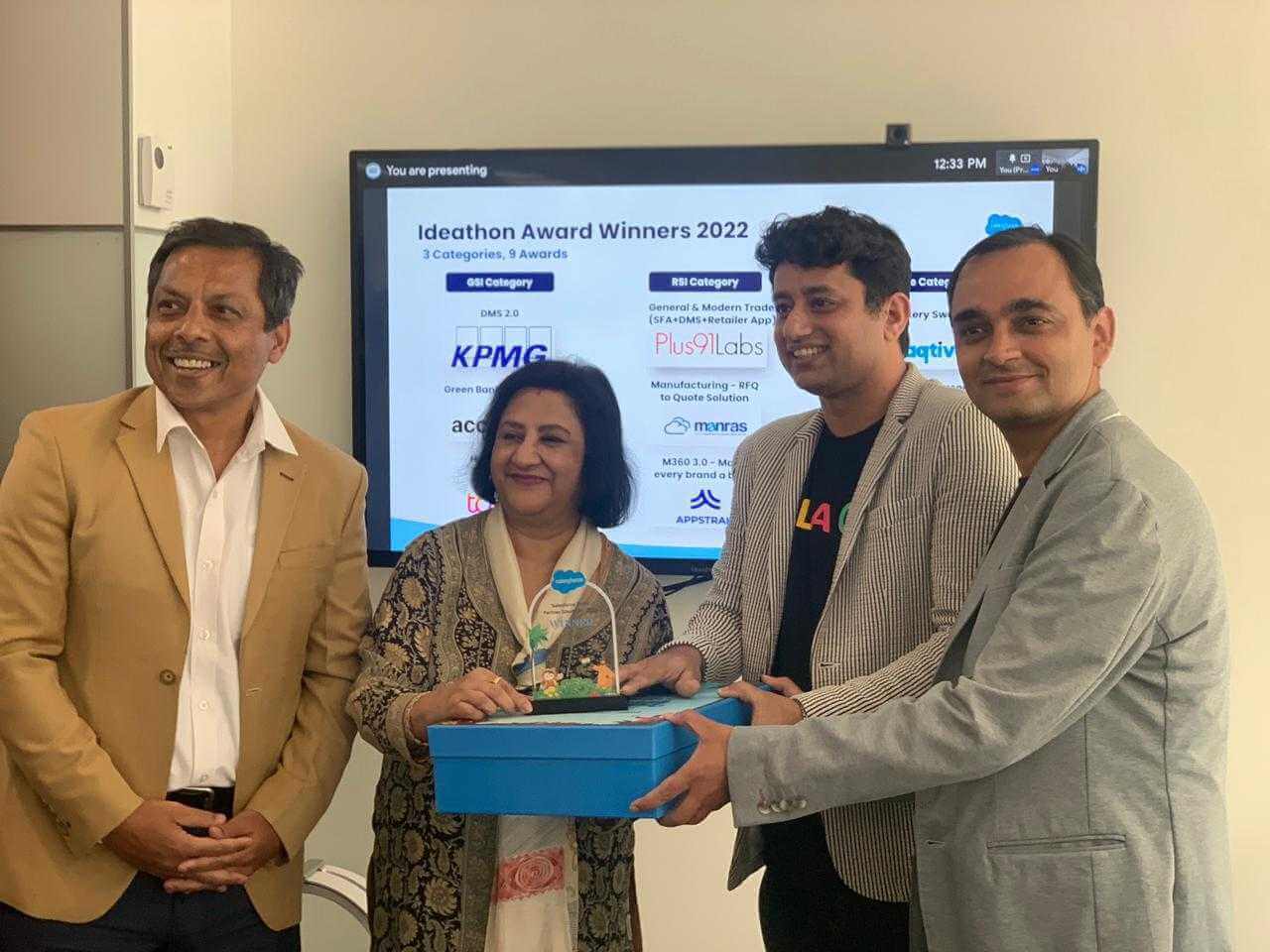 Salesforce deserves special recognition for arranging this Ideathon. It undoubtedly gave partners like us a place to showcase our innovative capabilities. 
We are currently on a winning streak!
Innovation is the cornerstone of our organizational growth. We are constantly looking for innovative and disruptive solutions to assist our customers in successfully managing and growing their companies.
This year at Dreamforce, CEPTES won the Partner Innovation Award in the ISV Innovation category. Out of the more than 850 success stories that partners submitted, ours stood out as one of the noteworthy ones. 
The success coaster keeps rolling for us! Last week we received the news that "CEPTES has won the APAC Partner of the Year Award '22 in the ISV Innovation category." 
These are some of the most prestigious achievements a Salesforce Partner can own and we are so proud of having them. All of these will increase our zeal for innovation.
The Idea Behind SLACE!
In today's world, the key to success is communication. Communication is effective when the right information is provided at the right time and the right action is taken promptly. This boosts business productivity and sales.
To supercharge business communication and collaboration, our team came up with the idea of SLACE. 
The term "SLACE" comes from the combination of Slack + Salesforce. 
SLACE is a Native and No-code Business Centric Self-Service Care App for Every Employee to communicate with Salesforce and External Systems with Ease.
Built on top of the Apex Slack SDK Platform, SLACE keeps all the stakeholders on the same page and makes collaboration super easy. 
For the solution, Salesforce serves as the information source, and Slack serves as the business communication & collaboration platform. 
The solution will go live in a few days, but if you want to try SLACE before the world, get in touch with us.
About CEPTES
CEPTES is one of the world's leading SI, ISV, PDO and is now a reseller Salesforce partner. We have 9+ Applications listed on Salesforce AppExchange. We have served over 1000+ clients across 5 continents and have a CSat score of more than 9.
Learn more about us here.