If you're seeking the best and most efficient marketplace to promote and sell your product, you've certainly heard about AppExchange. AppExchange is, without a doubt, one of the biggest markets that have ever existed. As a repository of valuable assets and information for both app developers & app users, the AppExchange enables developers to profit from their skills and businesses to improve their Salesforce Org capabilities.
The marketplace has a wide range of apps and over 10 million app installations, with new products getting published regularly. If you set up your application correctly and use the right price plan, then the AppExchange market can be incredibly lucrative. It's essential to start by deciding what kind of application you'll be offering. It will indicate the competition level of your niche, as well as how much further advertising and research will be needed to start.
All apps and services in AppExchange are divided by different categories, like: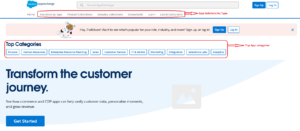 (Source: Salesforce AppExchange)
Once you determine the product category fit for your app, you can select your ISV program and monetization model. Before selecting the ISV program and monetization model, you need to understand the AppExchange pricing strategies.
Register today for the webinar to understand what are the different pricing strategies you can choose for your product.
AppExchange Partner Program License
The primary step in launching your monetized app is signing up for the Salesforce Partner Program. There are 2 different kinds of partner licenses to opt from: depending on the app type you'll be offering. The licensing you choose impacts what your customers can achieve with your apps.
ISVforce
Independent Software Vendors (ISVs) are enterprises that develop software for a distinct platform and application. It is one of the frequently chosen types of partnership by businesses wishing to monetize on the AppExchange via selling their application to the existing Salesforce users. Apps sold under this license are usually Salesforce ecosystem add-ons that let customers expand their functionality. Often, these apps are developed by entrepreneurs to address a market gap or improve CRM usability.
An ISVforce-license allows customers to add the licensed app to the Salesforce platform, increasing the product's overall value and making it more customizable for diverse business sizes.
OEM Embedded
OEMs (Original Equipment Manufacturer) create systems or components used in another business's end product. Their solutions are employed to fully utilize the other software. OEM apps are not Salesforce add-ons. One of the major advantages of adopting an OEM Embedded license is that you aren't restricted to only selling to Salesforce customers. Developers that build apps in the Salesforce Ecosystem now have additional freedom and flexibility with this license.
User licenses
Your app can either be providing a one-time upgrade or monthly updates to your customers' Salesforce system. Choose your business model based on the type of service that your app offers.  You should also assess how many users are anticipated to need access to your application in each customer's company; if more users have access to your solution, it's worth thinking about issuing licenses based on the number of users.
Conclusion
Your SaaS product's pricing can make or break its success. Setting the proper pricing for a SaaS business can be a challenge, but with the right plan, you can succeed. We can assist you with every step of the Salesforce process, from opportunity assessment to research to the final stages of the Salesforce Lifecycle. As a top PDO Expert, we're a one-stop shop for all your SaaS needs.
Join us for our webinar on "Decoding the secret of successful Salesforce AppExchange App Pricing" on 30th June at 10:00 AM EST., where our experts will explain and guide you through the many complexities involved in developing an AppExchange pricing plan.
Limited seats available. Register today and confirm your seat.