What comes to your mind when you see the word, Vlocity? A powerful option to redefine business? Or a convenient way to increase sales? Well, you must be aware by now that it is an effective tool used by Salesforce customers. But the question remains- how does Vlocity fare well as compared to others? Why do Salesforce customers prioritize this? Well, we have got you covered for all your queries.
In 2020, Salesforce acquired Vlocity and opened doors for many industries like Communications, Media & Entertainment, Insurance, Energy & Utilities, Health, and Government. Its numerous pre-built solutions have a wide range of offerings.
What role does Vlocity play?
Built on the Salesforce Platform, it is a top-notch provider of mobile software and solutions, specific to industries. It is offering an extensive array of solutions to some of the largest companies across the world.
Being industry-specific, it serves certain domains of a particular industry. What it essentially implies is that the solutions are designed by taking into consideration an industry's regulations and laws.

The specific solutions that it offers to various organizations are pre-built. One clear advantage is that the deliverables are already customized as per the exact needs of all the stakeholders, who sign up for Vlocity.
Vlocity caters to the following industries-
Communications

Media & Entertainment

Insurance

Energy & Utilities

Health

Government
It is evident that Vlocity enhances sales by empowering service and marketing performance. It increases the efficacy of operations, enabling enterprises to deliver faster results to clients. Designed in collaboration with Salesforce, Vlocity's guiding principles are value-driven services, customer satisfaction, and innovation.
Vlocity and Salesforce paving the way for the future:
During the first phase of 2020, much before the pandemic hit the world, Salesforce acquired Vlocity for  $1.33 billion. Now you must be wondering why did Salesforce take that step?
It is no surprise that Salesforce customers have always been aspiring for a paradigm shift in its digital transformation. In the process, everyone realized the need for something new; something that works for this day and age. That is when the thought of acquiring Vlocity came into the picture.
Customer 360 had paved the way for this acquisition. When Salesforce decided to bring Customer 360 and Vlocity on the same tangent, all it wanted for customers was to experience an advanced level of digital shift that seamlessly caters to various needs of the industry.
What does Vlocity offer?
Let us now see a few important offerings that Vlocity ensures for certain industries-
Vlocity for Communications:
The communication sector needed a transformation that enhanced digital solutions for customers. Vlocity Communications effortlessly collaborate with Salesforce Service Cloud to design a solution to garner personalized and uninterrupted experience for customers throughout their channels. This not only strengthened the existing customer base but also increased the flow of new customers.
Vlocity Communications utilize the omnichannel capabilities of Salesforce Service Cloud, Enterprise Product Catalog, CPQ, etc. Its integration will enable contact center agents and sales professionals to streamline the final customer experiences.
What are some offerings of Communications Vlocity built on Salesforce?
Intelligent Service:

Industry Rich Intelligence assists agents to know and understand the accurate requirements of customers.
Enhances Retail Customer Experience:

It offers and enhances the experience of customers by focusing on personalized solutions.
Efficiently structured orders:

It helps in guided selling; a user gets the choice of opting for Individual and Protect Margins.
GoDigital with Vlocity and Matrix Software:

Telco-rich Digital journeys across devices and channels.
This gives customers the freedom to define their individual experience of trying, buying & managing digital services, keep a track of real-time usage, and receive notifications.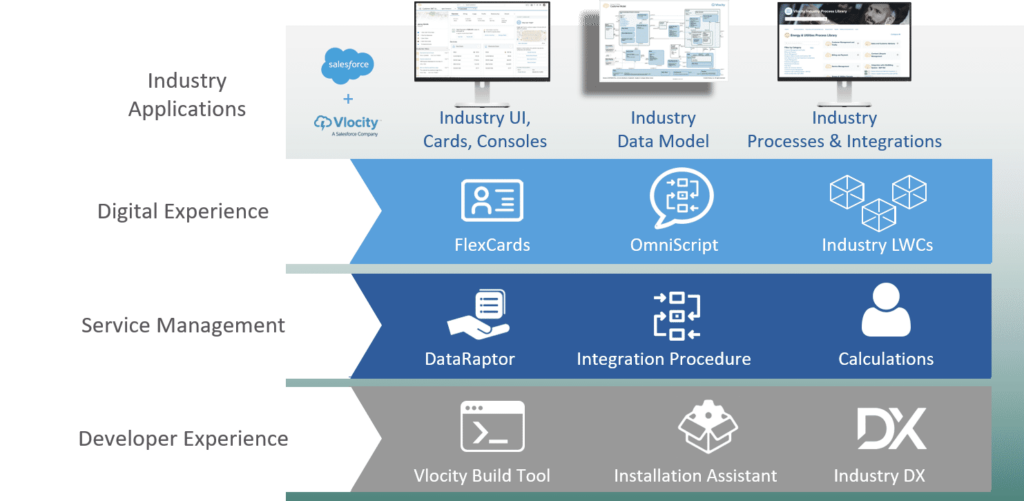 Vlocity for Media and Entertainment:
Vlocity caters to a diverse set of needs of the media and entertainment sector by offering a complete range of solutions. Its objective is to expand B2B as well as B2C digital customer interactions.
The pre-built solutions enable existing and new subscribers with recommendations for various products, customized offers, payments, etc. Vlocity customers also enjoy the benefit of industry-specific Salesforce data models with already structured processes.
What are some offerings of Media Vlocity built on Salesforce?
GoMedia Subscriber:

For the launch of upcoming media products in the business without compromising on B2C transaction and complexity.
GoMedia Ad Sales:

For optimizing cash flow and revenue from the ad inventory. It automates omni channel ad sales, pricing, and execution.
GoMedia Commerce:

To add high volume, encrypted, and anonymous-commerce transactions. These include advance promotions, bundling, and pricing capabilities for B2B, B2C, and D2C scenarios.
GoMedia OTT Streaming:

For a well-defined subscriber management solution to set foot in the OTT/Media/Video streaming markets. It helps in leveraging the existing post-paid billing and payment models by making these into convenient, prepaid, and digital services.
Vlocity Insurance:
Many companies in the insurance sector see it as a daunting task to be at par with the changing times. They often find it difficult to function as per the industry requirements. This is why we have Vlocity Insurance, which is designed in sync with the Financial Service Cloud.
Vlocity brings the entire policy lifecycle into a simpler format. From quoting and policy administration to managing service and claims, it has everything on a single platform.
What the Vlocity Process Library does is that it presents numerous pre-configured transactions, which can be easily downloaded and used in the app. There are customizable applications, which are also offered by Vlocity Insurance.
This is how Vlocity is creating the future for the Salesforce industries. All it does is help various businesses to adapt to the changing times and cater to the needs of industries. If you are thinking of a one-stop digital solution for your business, then Vlocity is what you are looking for. Moreover, integrating it into your CRM systems is hassle-free. So, what are you waiting for? Explore everything that Vlocity has to offer!
Bottomline: 
The rising popularity of Vlocity in the Salesforce ecosystem resulted in high demand for Salesforce Vlocity Developers, making them one of the most sought-after Salesforce resources. 
CEPTES Technopreneur is our purpose beyond profit initiative to support Salesforce aspirants passionate about technology to be a next-Gen trailblazer. Apply Now!